TeamUHN welcomes graduate from Project SEARCH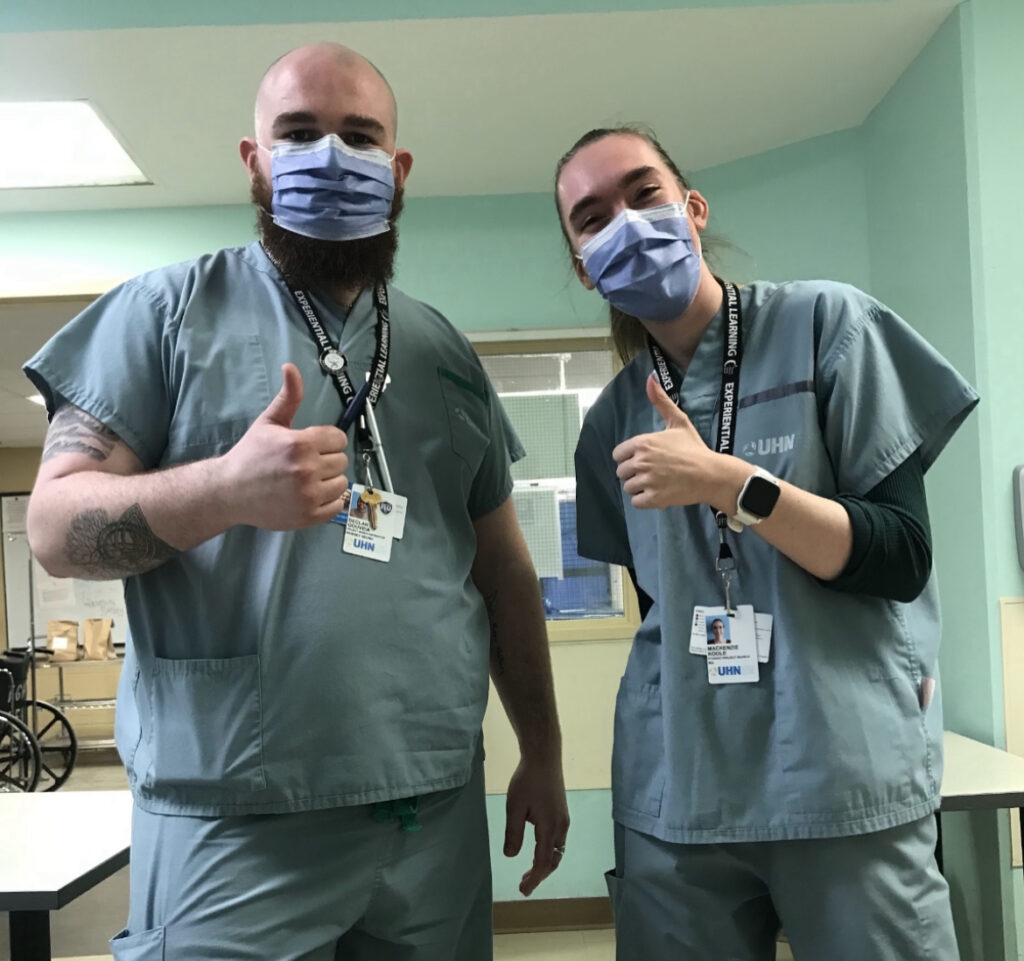 Princess Margaret Cancer Centre is excited to welcome its newest Porter, Mackenzie Koole – a graduate from Project SEARCH, a unique training program for students with an intellectual disability.
A partnership between the Toronto District School Board (TDSB), UHN and Holland Bloorview Kids Rehabilitation Hospital, Project SEARCH provides co-op placements for high school students with an intellectual disability to learn on-the-job skills in their final year of high school.
After just a few days of her placement with Toronto General Hospital's Transportation Services – part of UHN's Facilities Management – Planning, Redevelopment & Operations (FM-PRO) Department – Mackenzie was hooked.
"The atmosphere and support from other employees has been amazing," says Mackenzie, who started training for a permanent role at UHN this week.
While initially apprehensive about working in a hospital – having never dealt with tubes, wires, wheelchairs or inpatients – Project SEARCH ensures every student is set up for success by pairing them with a job coach from Community Living Toronto, which also partners with the program.
Declan Gouveia, job and skills developer, worked with Mackenzie as her job coach for 9 months in 3 different co-op placements. From the start, he knew she had the basic skills and could be trained to safely perform the Porter role. 
"By learning and applying techniques, such as errorless learning, feedback, and fading, appropriate communication and conflict resolution, I witnessed her competence and confidence grow every day," says Declan.
[Errorless learning is when you teach someone in a way that they never make a mistake. They learn and memorize how to do the task correctly because in the process of teaching no mistakes are made that might confuse the learner. Fading is when you slowly decrease the amount of help/attention a teacher provides a learner until they don't need the coach at all and can perform tasks totally independently.]
"I was thrilled that our departments would have the opportunity to help transition these young people from school to work," explained Sandra Macalister, manager of Transportation, Linen & Mail Services at Toronto General Hospital. "The Project SEARCH team made sure the students were well supported, and my staff welcomed them with open arms."  Sandra and her team hosted two students, including Mackenzie, this spring.  Just before high school graduation, Mackenzie interviewed for a permanent part-time position as a Porter at Princess Margaret Cancer Centre and secured the role.
Project SEARCH students acquire more than 700 hours of hands-on work experience geared to in-demand roles in the Toronto labour market. They learn employment and life skills, and plan their careers with guidance from a TDSB teacher, TDSB Education Assistant, and job & skills developers (job coaches) from Community Living Toronto. United Way Greater Toronto's Youth Success Strategy helps fund the Job & Skills Developer role.
With hands-on training, combined with job coaching and instruction in employability skills, Project SEARCH graduates, including Mackenzie, are qualifying for complex and systematic roles in healthcare and other diverse organizations. In addition to UHN, graduates from past years have been hired at Holland Bloorview, Sodexo Canada, Compass Group Canada, State Window Corporation, Rosedale Golf Club, and in retail positions with various organizations. Based on an international model, Project SEARCH programs boast a 75% employment success rate.
To learn more about Project SEARCH, contact projectSEARCHtoronto@tdsb.on.ca or visit www.projectSEARCHtoronto.ca.
UHN employees, please contact amy.spear@uhn.ca to get involved.